The Santacruz Electronic Export Processing Zone popularly known SEEPZ was established on May 1, 1973 by the Ministry of Commerce and Industry. Since its inception 5 decades ago, SEEPZ has been going from strength to strength across parameters. The objective of setting up SEEPZ was to promote exports of Electronic items from the country to earn not only foreign exchange for the country but also offer employment opportunity to people.
The Year 2022 marks the 50th year of India's key export promotion destination with the single largest concentration of gems and jewellery units (over 180) worldwide, plus engineering, electronics hardware (non- IT), software (IT/ ITeS), services & trading units (non-jewellery) recording merchandise exports worth over Rs 27,000 crore annually.
The Golden Jubilee Year called for some kind of celebration as SEEPZ Mumbai is going to undertake the rejuvenation of the existing complex into a state-of-the-art campus with iconic smart buildings having world class facilities for units to operate on plug and play basis. The year 2022 – 23 would witness a 200 Cr. Makeover plan with building a Common Facility Centre at the cost of Rs 80 Crore to offer cutting edge technology to the trade. Moreover the rejuvenation plan also include constructing new buildings in place of the old dilapidated buildings.
The Golden Jubilee Year Celebration program was to launch the year long activities planned to imbibe the sense of belonging among all the stakeholders .The program consisted of :
Vintage Car Rally.
An exhibition encapsulating the Journey of SEEPZ and what lies ahead.
Function in the BFC building hall to felicitate the Trade Members for their contribution in the Growth of SEEPZ.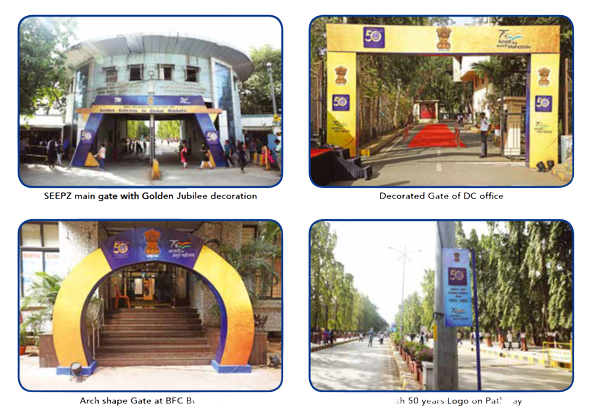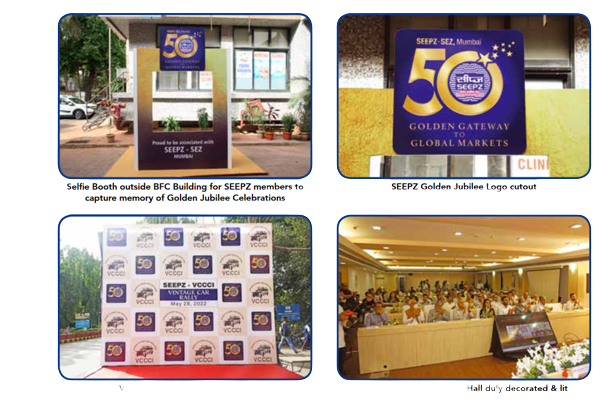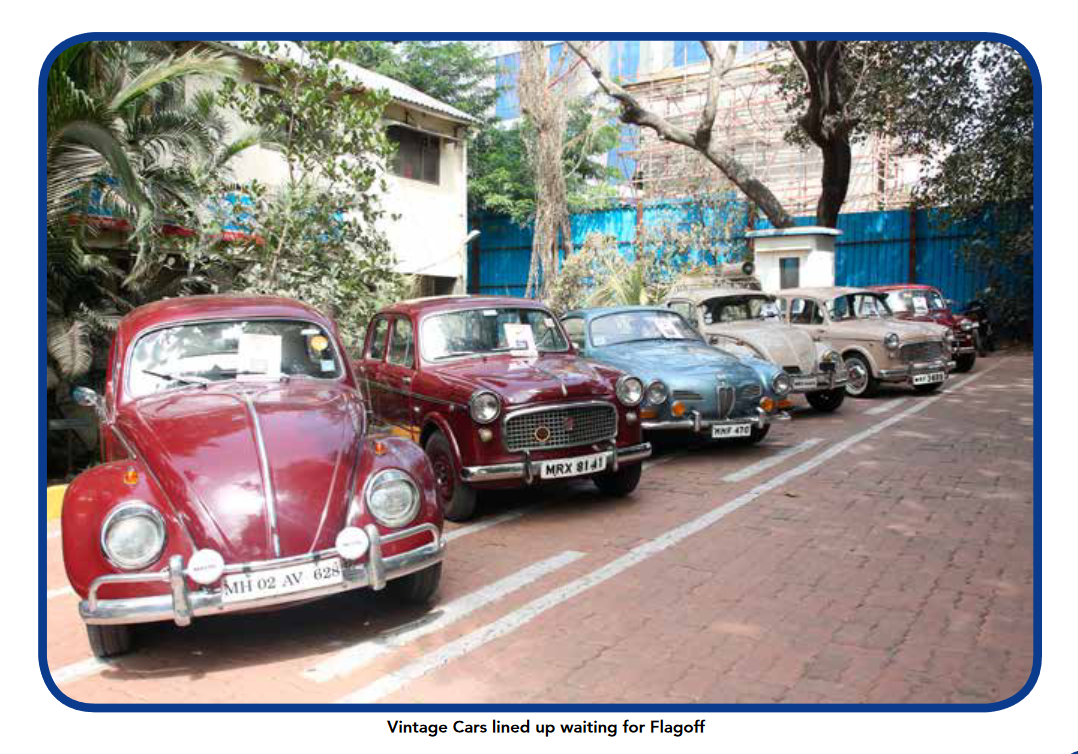 Mr Siddhartha Khona - Karmann Ghia 1970
Mr Jaytilak Khona - VW Beetle 1967
Viraf Bomi Boyce - 1957 Fiat Elegant
Harish Hegde - Mercedes W123
Abhimanyu Hegde - Fiat Milicento
Prashant Solanki - Fiat Padmini 1983
Behram Adershir - 1967 ALFA Romeo GT 1300 Junior
Dhanaji Shirke - Fiat Super Select 1962
Rony Vesuna - 1964 Fiat 1100
Sangram Shirke - 1963 Beetle
Nitin Dossa - 1947 Buick
Nishant & Hiral Dossa - 1948 Lincoln
Monisha Dossa - 1947 Cadillac
Shashikant ChowdhuryVw beetle 1969
Pilzad Master - 1957 Fiat 1100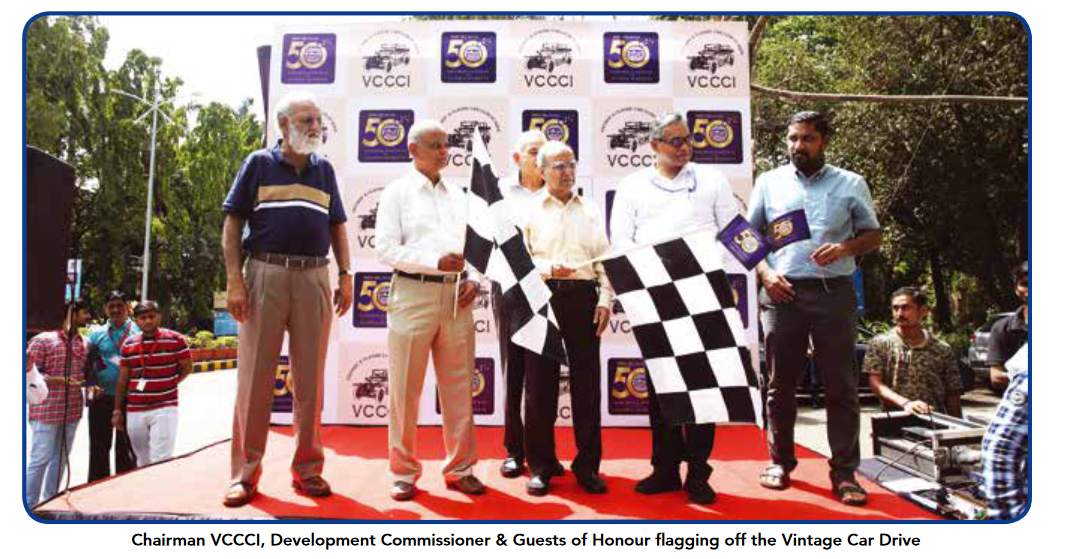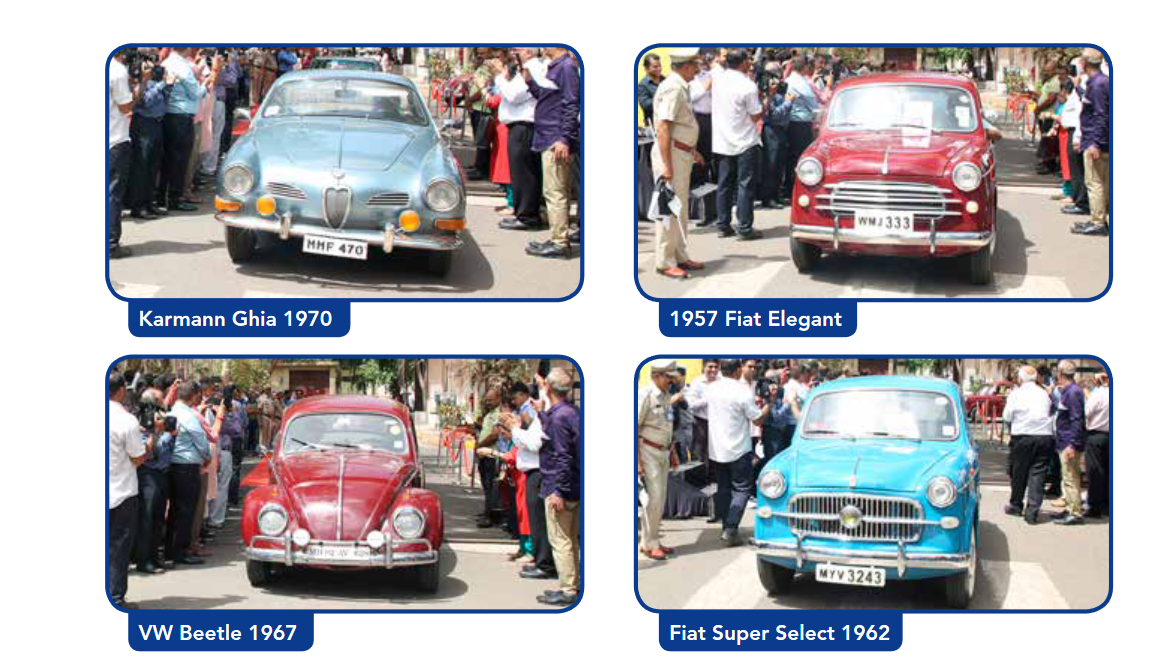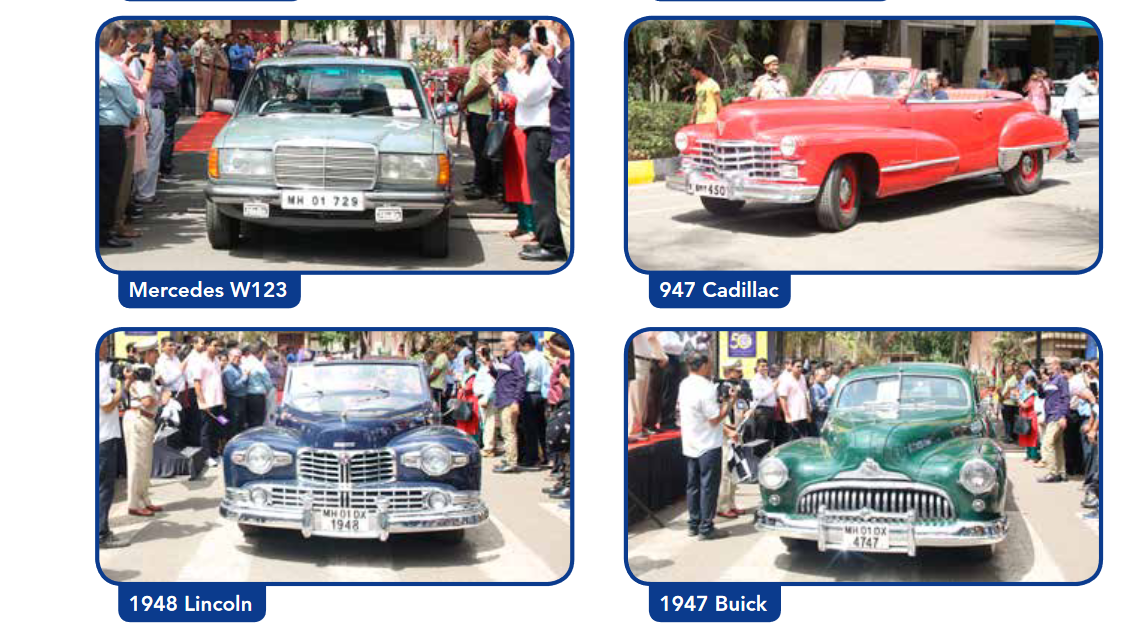 EXHIBITION TO SHOWCASE THE JOURNEY, HERITAGE AND FUTURE :
The objective of organizing a Vintage Car Drive was to make the celebration memorable with Vintage Cars driving through the SEEPZ complex. The Vintage Cars reflected on the character of SEEPZ being the hub for Royal and Classy product manufacturing . The vintage cars left a lasting impression on the minds of the onlookers which clearly took it as the winds of change blowing at SEEPZ . The Vintage Car Drive was flagged off by the ex Development Commissioners and Guests of Honour Shri B N Makhija IAS ( Retd. ), Shri R M Premkumar IAS ( Retd. ) ex-development commissioners and the current Development Commissioner, SEEPZ Shri Shyam Jagannathan IAS.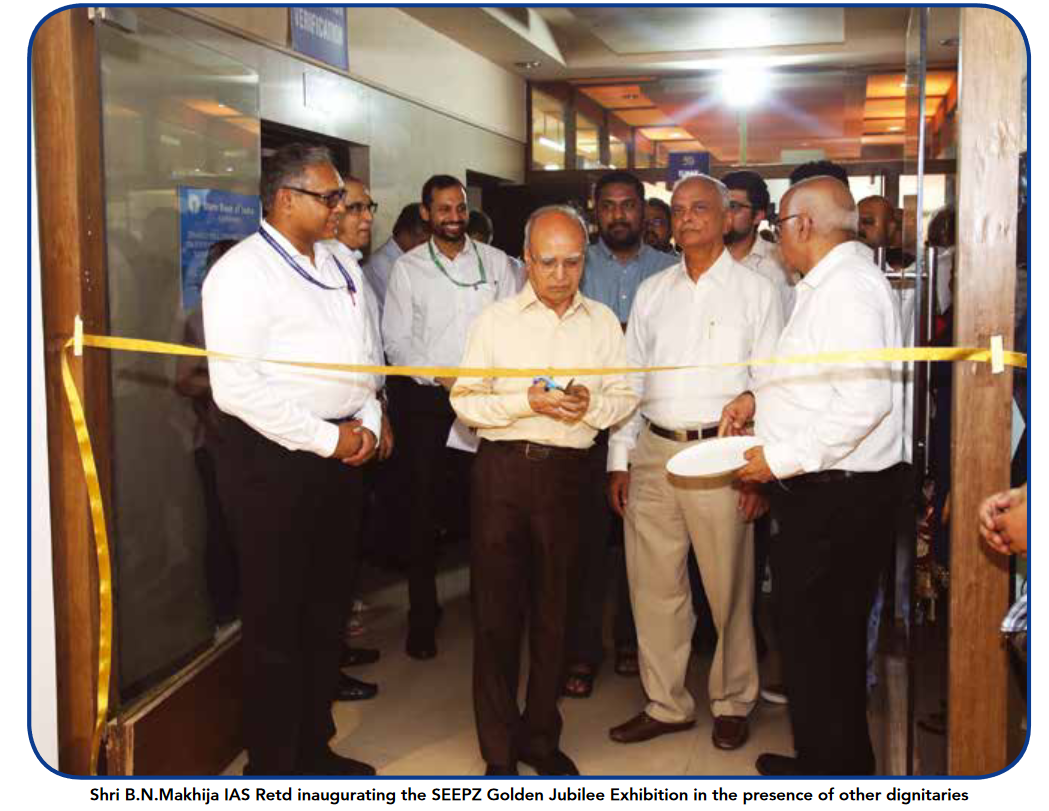 The completion of Vintage Car Drive was followed by the inaugural function where a short film encapsulating the significance of SEEPZ-SEZ and its myriad facets was screened for the invitees gathered, after which Joint Development Commissioner, Shri CPS Chauhan (IRS) made a detailed a presentation highlighting key aspects and achievements. Aligned to the Prime Minister, Shri Narendra Modi's vision of Aatmanirbhar Bharat and Make in India initiatives, the redevelopment and rejuvenation of SEEPZ-SEZ has been designed to create more space and attract global investments and generate work. "SEEPZ is SEEPZ, it is a brand in itself, recognised worldwide. This is the reason why numerous jewellery manufacturers want to be associated with the zone, but there is not enough space. The new redevelopment steps that we are taking will open up more spaces, this will help to attract new investors and in turn, lead to generation of work opportunities," shared Shri Chauhan.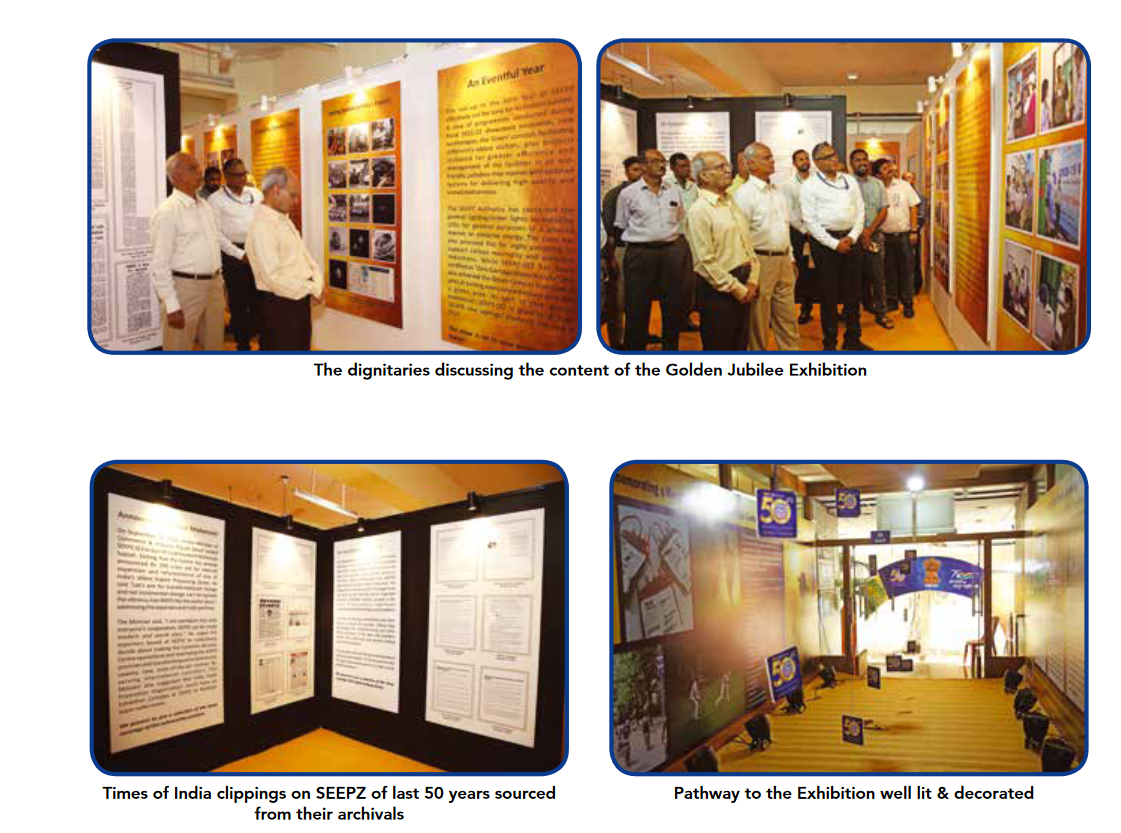 GOLDEN JUBILEE INAUGURAL CELEBRATION FORMALLY THROWN OPEN WITH SPEECHES, RELEASE OF BROCHURE AND FELICITATION
The event witnessed the address by the Development Commissioner Shri Shyam Jagannathan (IAS), who shared his vision for SEEPZ-SEZ 2.0, which involves a major overhaul of the cluster. He gave details about the Rs 200-cr redevelopment plan to refurbish and rejuvenate SEEPZ-SEZ; the project was announced by the Union Minister of Commerce & Industry, Consumer Affairs & Food & Public Distribution and Textiles, Government of India, Shri Piyush Goyal last year. It includes the establishment of a mega Common Facility Centre (CFC), which will provide cutting-edge technology as well as hi-tech machinery for manufacturing and other allied processes in gems and jewellery. It's an Rs 80-crore project, which is targeted for completion by May 1, 2023. The other plans include two new SDF (Standard Design Factory) buildings, where members of the oldest SDF buildings – 1 & 2 - will be shifted. The completion of these new buildings will make way for two more new buildings later.
Shri. Shyam Jagannathan, IAS, Zonal Dev. Commissioner – SEEPZ

"After surmounting innumerable odds while steering through the uncharted waters of a global pandemic and emerging triumphant, our next challenge is to take SEEPZ-SEZ to even greater heights in terms of positioning and performance. This endeavour commences on an auspicious note with the commencement of a year-long schedule of activities at SEEPZ-SEZ to highlight the significance of the existing achievements as well as the transformation that lies ahead. The existing complex into a state-of-the-art campus with iconic smart buildings having world-class facilities for units to operate on a plug and play basis, along with the latest infrastructure facilities for business and facilitating ease of doing business with global competitiveness. The mega CFC will empower small manufacturers, train and upskill them as well as help them scale up their quality of production. This, in turn, is sure to reflect in the contribution made to the export of the country, in terms of quality and volume," said Shri Jagannathan.
Some of these stories were shared by the pioneer members of SEEPZ-SEZ as well as former Development Commissioners, who were felicitated at the half-day inaugural event. The year-long celebrations will also be marked by special tribute events, marathons and cyclathons, among others, till the grand culmination on May 1, 2023.
Shri. C P S Chauhan, IRS, Jt. Dev. Commissioner – SEEPZ

He began his speech by saying that it was indeed a pleasant coincidence that while the entire country was celebrating 75 years of Independence with Azadi Ka Amrit Mahostav and SEEPZ was celebrating its Golden Jubilee year. He made a detailed presentation enlightening the audience with information on the journey of SEEPZ since 1973. He expressed his commitment to setting of a mega common facility centre to facilitate the trade will be handed over on May 2023. We are in association with GJEPC are very much on target to achieve the deadline. This will be one of the two such facilities coming up in the country. The other one being at Surat. He also proudly mentioned that Exports of Jewellery from other SEZs almost became Nil during Covid but SEEPZ recorded growth of 71 % in Jewellery exports during Covid period. The occasion of Golden Jubilee offers the right platform to showcase the achievements of SEEPZ not only in Gems and Jewellery sector but also in Electronic , manufacturing of parts used in Chandrayan, Ventilator Manufacturing. He requested the trade to come forward whole heartedly to take part in the year long Golden Jubilee Celebration of SEEPZ.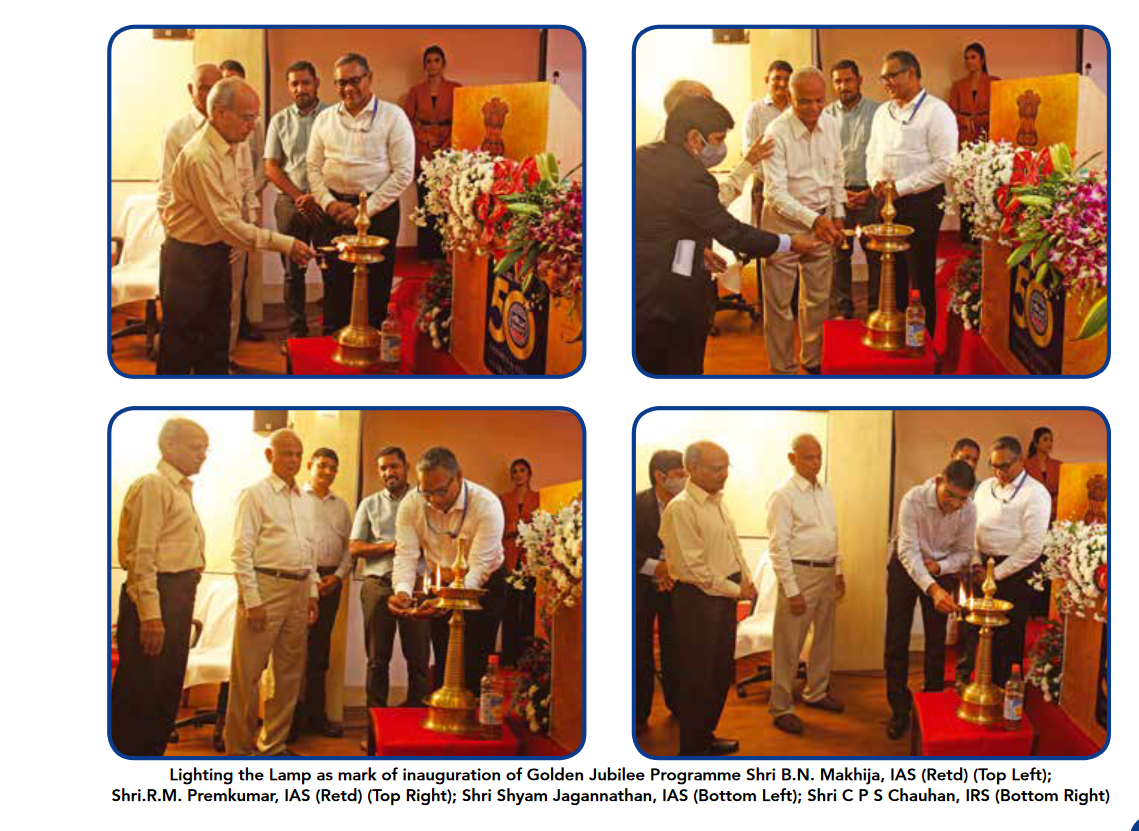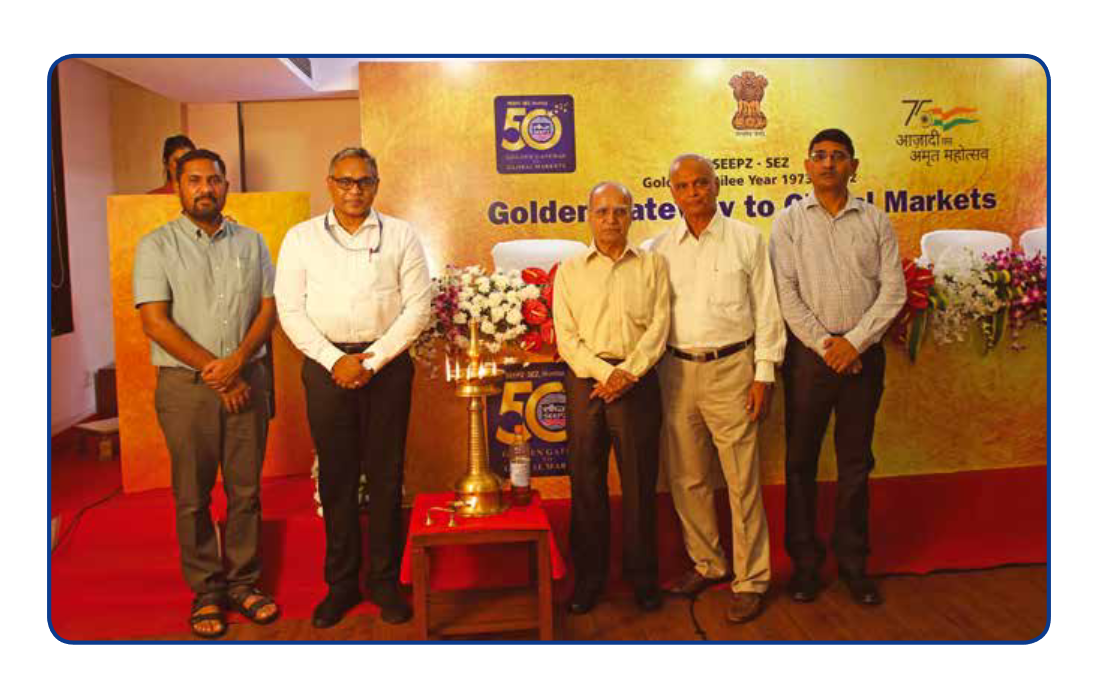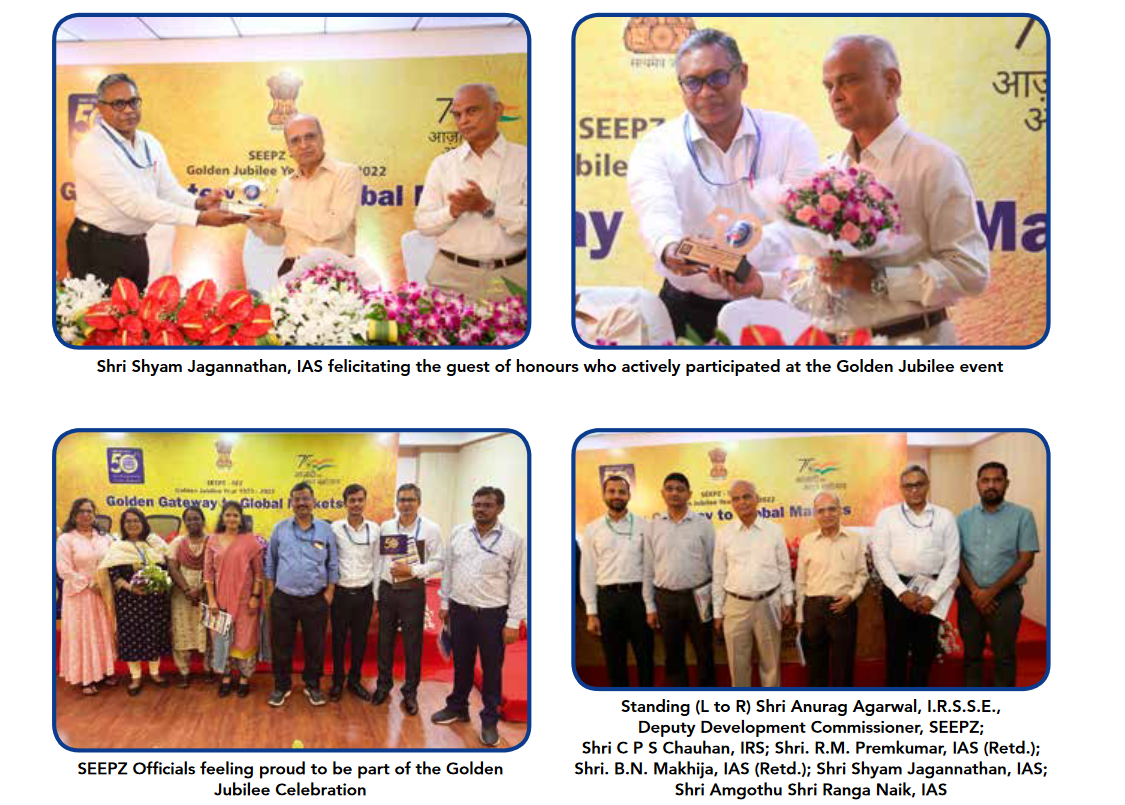 SPEECHES BY THE CHIEF GUEST & GUESTS OF HONOUR
The SEEPZ authorities chose to invite the past Development Commissioners who had laid a strong foundation for SEEPZ to reach where it has reached today. They had left their foot prints behind with their contribution in laying the right path of growth for SEEPZ to walk on. The Chief Guest & Guests of Honour included:
Shri. S. Rajagopal, IAS (Retd.): Ex DC SEEPZ from 01.05.1973 to 20.02.1978, Chief Guest
Shri. B.N. Makhija, IAS (Retd.): Ex DC SEEPZ 11.07.1978 to 24.05.1983, Guest of Honour
Shri. R.M. Premkumar, IAS (Retd.): Ex DC. SEEPZ 31.08.1989 to 31.08.1993, Guest of Honour
Shri. Amgothu Sri Ranga Naik, IAS: Joint CEO, MIDC (Current), Guest of Honour
Shri. S. Rajagopal, IAS (Retd.): Ex DC SEEPZ, Chief Guest

Shri S. Rajagopal, spoke at length and fondly remembered his stint at SEEPZ during its foundation stage. He remembered his last day at SEEPZ 45 years ago at the Customs a Security personnel had offered me farewell which I still recall. He felt happy to visit a Government Organisation, 30 years after retirement. He fully endorsed the views raised by Colin Shah that there was a need to create awareness about Brand SEEPZ and he wished that in future all the products be it electronics or Gems and Jewellery should not only mention Made in India but also Made in SEEPZ in India. He recalled the period 1973 was the period of Electronics flavour and SEEPZ was chosen to be the hub for Exports of Electronic products.He was happy to note that today SEEPZ is offering direct employment to 30,000 people and indirect to 40,000 people. He also recalled that initially there was opposition to the naming of SEEPZ as it sounded like " SLEEP ". To make the name SEEPZ popular , he asked the then BEST General Manager to name the bus stop close by after SEEPZ and he obliged and rest is history. He also suggested that all the development of creating modern infrastructure is welcome but the authorities must offer good living conditions for all those working at SEEPZ. Concluding his speech he expressed that he would have loved to be at SEEPZ today.
Shri. B.N. Makhija, IAS (Retd.): Ex DC SEEPZ, Guest of Honour

He began his speech by saying that it was a great occasion for him to be present and reunite with the institution which he had served in its initial days. It was like home coming but with the difference that the home had undergone a vast change. On a lighter note he mentioned that he could relate with only two persons from the assembled people and they were Mr. Manohar Tandon in the crowd and Mr. Premkumar on the dais. He congratulated DC for achieving export of Rs 30,000 crore and SEEPZ had come a long way from his time when they were at Rs 50 Crore of Exports. He concluded his speech by saying that SEEPZ will achieve its export target of Rs 50,000 Crore at the rate at which it was moving along
Shri. R.M. Premkumar, IAS (Retd.): Ex DC SEEPZ, Guest of Honour

He in his speech congratulated the Development Commissioner SEEPZ for meticulously putting together the half day event with multiple dimensions including the Vintage Car Rally. He said this spirit indicated a sense of belonging that the DC has for SEEPZ and he assured all the stakeholders present there that they were in safe hands with this kind of belongingness. He went on to say that the efforts put in by the DC signified that he placed the team ahead of him and led from the front proving the Acronym TEAM as "Together Everyone Achieves More "to be true.
Shri. Amgothu Sri Ranga Naik, IAS: Joint CEO, MIDC, Guest of Honour

MIDC Jt. CEO in his speechsaid he felt very lucky to be here on this occasion of the Golden Jubilee Inaugural Ceremony of SEEPZ. This was his first visit to SEEPZ which has been an eye opener for him. Though MIDC is located so close by he never knew the contribution of SEEPZ to the country's economy . He also assured of all the help in sorting out issues pertaining to the land owned by MIDC and how they can contribute more towards building brand SEEPZ .
TRADE SPEAKS'
VOTE OF THANKS BY
SHRI ANURAG AGARWAL, I.R.S.S.E.,
Deputy Development Commissioner, SEEPZ

PRESS COVERAGE